Pergola Auckland & NZ
An outdoor living area can transform a home, extending the useable living areas without extending the building's footprint. It can provide an area for relaxation, for entertaining, and enjoying the outdoors. Our Villa pergolas can be used to create living areas that can be used year-round. 
Window Furnishings
Living areas are where most people want to make the biggest impact. We offer high quality curtains, blinds and accessories for home windows.
High Quality Home Windows
Expand your outdoor living area without expanding your building's footprint through our durable aluminium Pergolas. We present a versatile collection of Pergola Auckland & NZ including wall mounted villa pergolas, motorised louvered roof pergolas, custom pergolas, blinds and pergola accessories perfect for suburban living.
Buy in-store or online, and don't hesitate to contact us for any further inquiries.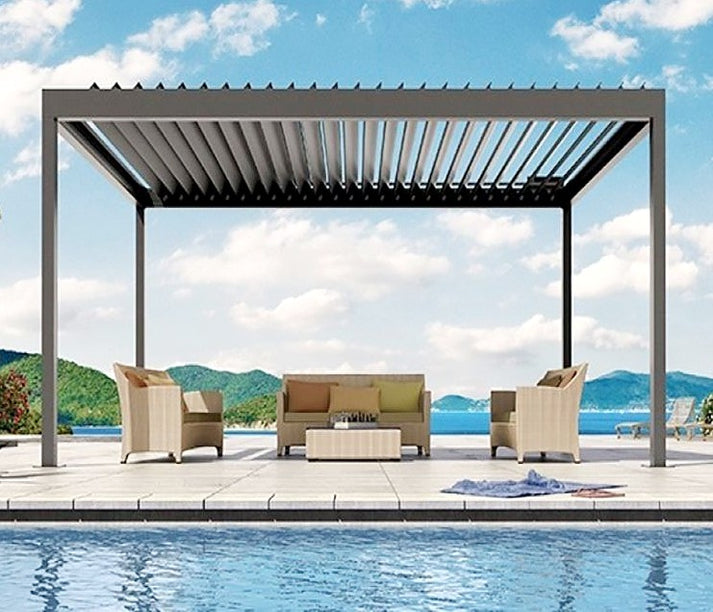 Make The Most Of Outdoor Areas with Welltex
Welltex offers the most cost-effective solution for expanding your usable floor space outdoors through the installation of pergolas. Our primary goal is to transform outdoor living areas into extraordinary living spaces to savour quality moments with friends, family, or loved ones.
As a family-owned and locally-managed business, we are driven by a passion for excellence. Our commitment lies in sourcing premium products and collaborating exclusively with trusted suppliers to give you only the finest-quality products. We hold firm to the principles of exceptional customer service and superior quality. Above all, we consider shopping a fundamental right of everyone - not a luxury. Thus, we are dedicated to providing the finest products at affordable prices, conveniently delivered to your doorstep.
Motorised Louvered Roof Outdoor Pergola
Our motorised louvered pergolas are a versatile solution to expand outdoor spaces without extensive construction. Not only do they enhance your outdoor space, but they also increase your home's value. Our motorised louvered pergola kitset features waterproof blades with a 90°rotation capability. You can adjust the amount of sunlight and shade levels at the touch of a button. Moreover, our outdoor pergola NZ is built with a durable aluminium frame (that's backed by a 10-year warranty) and is available in four different sizes to fit any space.
Louvered Roof Pergola Accessories
We sell a range of pergola accessories to customise your aluminum pergola in NZ for maximum comfort. From Smart Infrared Heaters with Bluetooth and Speakers to Wireless Rain Sensors for ultimate rain protection, our accessories will elevate your pergola experience.
With our smart outdoor heaters, you can effortlessly set the perfect temperature while enjoying your favourite music during lively gatherings or serene moments of solitude. Furthermore, with Wireless Rain Sensors, you can protect your furniture against unpredictable weather. These advanced sensors automatically close the louvres when rain is detected and ensure that you and your belongings remain dry during sudden showers.
Outdoor Blinds
Our outdoor blinds seamlessly blend functionality with elegance. The outdoor sheerweave fabric enables a gentle breeze to flow, ensuring comfort during summer days while safeguarding outdoor furniture from harsh sunlight.
Safety is paramount in our design and therefore you will see no cords, crank handles, zips, or external wiring that could pose risks to children and pets.
Moreover, for a personalised touch, we provide made-to-measure options including Manual and Motorised Zipper blinds. You can make your pergolas more comfortable and private with our zipper blinds. They provide protection against wind, rain, dust, and insects and are perfect for windy conditions.
We stock two colour options: Dark Grey and White, perfectly coordinated to complement our kitset pergolas. We also offer custom made to measure blinds in manual or motorised options, allowing you to select from a choice of four standard colours or explore a range of premium colour options to suit your preferences.
Window Furnishings
We don't just focus on your outdoor spaces – we're also dedicated to enhancing your indoor living areas. We know that living areas are the beating heart of any home and often serve as the focal point for personal style and comfort. Therefore, we provide high-quality, beautiful curtains, durable curtain rods NZ, decorative curtain rings and other accessories to add a touch of sophistication to your window treatment.
Whether you're seeking enhanced privacy, light control, or an aesthetic upgrade, our Auckland Pergola and accessories cater to your unique preferences and contribute to the overall aesthetic of your living spaces.