Beautiful and Sturdy Curtain Rods NZ
In the process of creating an ideal interior design, people often overlook the importance of curtain rods NZ in window treatments. These rods do more than just add a stylish flair; they elevate the visual charm of any area. Beyond aesthetics, they provide essential structural support for curtains and facilitate easy opening and closing, giving you control over the light and privacy of the space.
Regular price

Sale price

$49.95 NZD

Unit price

/

per

Regular price

Sale price

$0.50 NZD

Unit price

/

per
At Welltex, we sell extendable curtain rods that are ideal for modern interior decor.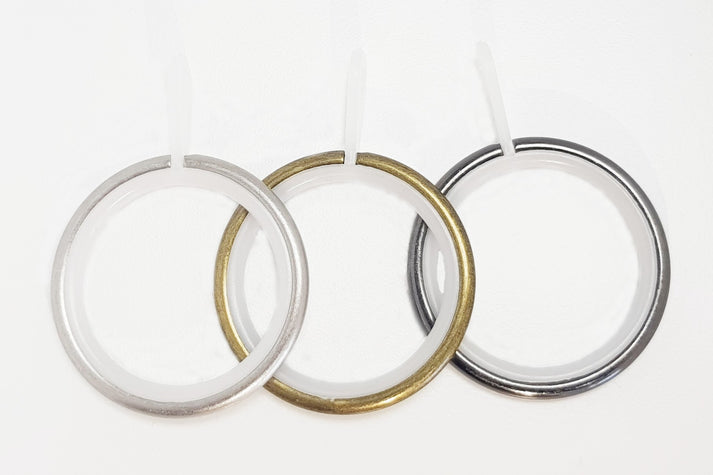 High-Quality Extendable Curtain Rods
Extendable curtain rods are ideal to add an extra decorative touch to your windows as well as sliding doors. If you're dealing with larger-than-average windows(from 160 cm up to 300 cm window widths), our extendable curtain rods are the perfect solution for achieving a precise fit. They are easy to install, can be used as a normal track to hook curtains with rings and for eyelet curtains without rings.
What sets them apart are the removable finals positioned at each end of the rod. While their primary function is to secure the curtain panels, they also add a stylish accent, elevating the overall look of your windows.
The package includes 2 Finials, 3 Single Brackets, 30 wire rings, and Fixing screws. You can choose from 4 designs including Sphere, Hook, Spiral, and Round. The available colours are Black, Silver, Gunmetal, and Gold.
The Rule For Hanging A Curtain Rod For A Chic Look
Well-fitted and skillfully hung window treatments have the power to enhance any room. On the other hand, improperly chosen treatments can lead to a lacklustre and cramped appearance. If curtain panels are hung too low, the room's height can seem constricted. Alternatively, if they're placed too high, they might not gracefully touch the floor as intended. Yet, when precisely positioned, they can give your space an elevated feel.
Therefore, correct placement of the curtain rod or curtain track is important to enhance the overall ambience of any space.
Follow these guidelines for rod placement:
Set the rod 8 to 10 inches (20 to 25 cm) above the window, or within rooms(featuring exceptionally high ceilings), position it 12 to 24 inches (30 to 61cm) above the window, or consider situating it just below the crown moulding.
In cases of limited space, ensure the rod is at least 2 inches (5cm) above the window.
To achieve a balanced appearance, extend the curtain rod width by a minimum of 4 or 5 inches (10 or 13 cm) on each side of the window. For optimal results, a preferable addition would be around 10 to 12 inches (25 to 30 cm) on each side of the window. Maintain uniformity within a room by positioning each curtain rod at the same height. This cohesiveness contributes to a harmonious visual aesthetic.
The Benefits Of Buying Extendable Curtain Rods
When it comes to home decor, the spotlight often falls on furniture, flooring, walls, and lighting. We often overlook the importance of window treatments - the contribution of curtains and drapes in creating unified and chic ambience for your home, particularly when paired with decorative curtain rods.
Adds Visual Allure
Just like our outdoor blinds NZ, our extendable curtain rods can also infuse a cosy and rustic charm into any space and elevate its visual appeal. With four distinct colours on offer, you can effortlessly blend them with your chosen decor style.
Offers Versatility
Our decorative curtain rods come in various widths, accompanied by finials that offer you the versatility to customise them according to your precise window dimensions and achieve a harmonious appearance. Additionally, you have the option to select from an array of designs such as Sphere, Hook, Spiral, and Round to infuse a distinct and personalised element into your decor.
No Cutting Required
Unlike some fixed-length rods that might need to be cut to fit a specific window, extendable rods can be adjusted without the need for cutting or resizing. This eliminates the risk of measurement errors or the need for specialised tools.
Easy Installation
The simplicity of installing our curtain rods is one of their standout features.They come with screws and mounting hardware to make the installation process simple. You can easily attach them to your walls or window frames and make adjustments with minimal effort, all without the need to hire a professional.
Adaptability to Different Spaces
If you decide to rearrange your furniture, move to a new house or rent a space, your extendable curtain rods can easily adapt to the new space. This adaptability is especially useful if you like to redesign your living spaces frequently as these rods can be easily removed when you move or decide to make changes.
Buy Extendable Curtain Rods At Welltex
If you are looking for a high quality, durable and adjustable curtain rod, consider buying from Welltex. We specialise in providing curtain rods that meet the highest standards of quality. Simply provide us with the window size, the weight of the curtain panels, and the number of curtain layers you intend to hang. With this information, we will provide you with expert guidance and recommendations for a beautiful window treatment.
Choosing a selection results in a full page refresh.
Opens in a new window.