Regular price
$350.00 NZD
Regular price
Sale price
$350.00 NZD
Unit price
per
Sale
Sold out
Our stunning custom Aluminium canopies are suitable for decked or paved areas providing the perfect space to sit back and relax. These shelters allow you to enjoy your patio throughout the seasons and protect you and your family from dangerous UV rays as well as rainy downpours. Patio canopies make a beautiful addition to any home and garden as well as maintaining a ventilated radiant outdoor space, perfect for BBQ, dinner parties or relaxing after a long day at work.
The canopies are custom made and has powder coated aluminium frame with a straight or curved roof. We use Poly Carbonate endurance board for the roof panels, which is hardwearing and long lasting.
View full details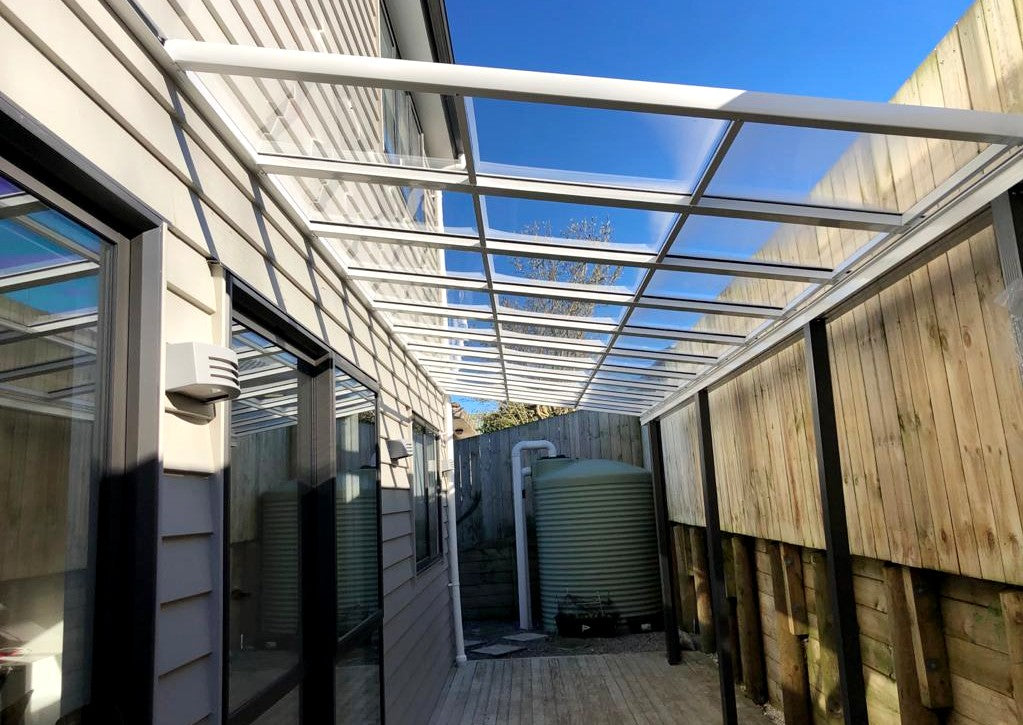 PC roof panel colour options: Clear, Brown, Grey

Aluminium frame colour options: Dark Grey, Black, White
Roof Type: Straight or curved.
The price indicated here is calculated per square meter (SQM) and serves as an estimate. Factors like roof type, mounting surface, and other variables may influence the ultimate cost. The final price will be determined following a site visit.
For more information, please call us on (09) 835 9814 or email us at info@welltex.co.nz.
Do you know that an aluminium canopy can be a great addition to any outdoor space to improve its aesthetic and functionality? This versatile and durable structure gives your home a touch of splendour along with shade and safety.
Our gorgeous aluminium canopies are ideal for decking or paved areas and offer the ideal place to unwind. These shelters allow you to use your patio all year long while shielding you and your loved ones from harmful UV radiation and downpours. Patio canopies are a lovely addition to any house and garden and maintain a radiantly ventilated outdoor area. They are ideal for dinner parties, BBQs, and relaxing after a day at work.
The canopies are custom made and have an aluminium frame that has been powder coated. You have the option to choose between a straight or curved canopy roof style based on your personal preference. For the roof panels, we utilise Polycarbonate endurance board, which is robust and long-lasting.
Discover the Elegance of Our Aluminium Canopies
An aluminium canopy is built to withstand the test of time. Due to its rust-resistant qualities, you won't need to be concerned about challenges from changing weather conditions. Unlike other materials, aluminium does not succumb to rust, ensuring your canopy maintains its sleek appearance for years.
An aluminium canopy's elegant, modern design perfectly matches any building style. An aluminium canopy will fit in whether your home has a modern appearance or a more traditional charm.
Beyond their practicality, our canopies contribute to the aesthetic appeal of your decked or paved areas. They add a touch of sophistication to your outdoor space and create a harmonious connection between your interior and exterior spaces. Plus, you can enhance the privacy of your space by using our outdoor blinds NZ so you can sit back and relax with your loved ones in a private area close to nature.
Sustainability
Aluminium is a sustainability champion, entirely recyclable without losing its inherent properties. The Aluminum Association highlights a striking statistic: 75% of all aluminium produced is still actively utilised today, showcasing its enduring nature and minimal environmental impact.
Enduring Against Corrosion
One of aluminium's standout attributes is its high corrosion resistance. Unlike materials such as steel vulnerable to rust, aluminium's intrinsic characteristics give it impressive durability. The minimal presence of iron in aluminium alloys means that true rusting doesn't occur. Instead, a natural oxide layer forms upon exposure to oxygen and water, acting as a protective barrier against further corrosion.
Feather-Light and Cost-Effective
Renowned for its lightweight composition, aluminium has earned its reputation as an efficient structural material, weighing in at less than one-third of the weight of steel. This lightweight quality extends its influence beyond its structural prowess. It directly translates to lower material costs for projects and significantly reduces expenses associated with transportation and installation.
Smart Drainage Design
Incorporating ingenious engineering, our aluminium canopy systems feature an internal drainage mechanism. This well-conceived design ensures efficient water drainage, guiding it down and out through beams, columns, and downspouts. This feature not only enhances the longevity of the canopy but also ensures a seamless and clean aesthetic.
We Give You A World of Options
We let you pick PC roof panel colours. Choose from clear, brown, or grey roof panels, allowing you to customise the ambience under your canopy.
There are also options in Aluminium frame colours. Elevate your canopy's visual appeal with dark grey, black, or white frame finishes.
Select your roof types. Opt for a classic straight roof or an alluring curved design to add architectural interest to your outdoor space.
Enhance the comfort of your private space by using our smart outdoor heaters with bluetooth connectivity.
Please note that the pricing is calculated per square metre area and can vary based on roof type and mounting surface factors. For comprehensive details, feel free to reach out to us. Allow our dedicated team to assist you in creating a bespoke outdoor haven that seamlessly blends comfort, style, and functionality, transforming your patio into a serene oasis.
FAQs
1. How long do aluminium canopies typically last?
When properly maintained, aluminium canopies can last for decades. The natural oxide layer on aluminium protects against corrosion and extends its lifespan.
2. Can aluminium canopies be customised to match my home's design?
Absolutely. Aluminium canopies come with a range of customization options, including frame colours, roof panel choices, and even curved or straight roof designs, allowing you to tailor the canopy to your aesthetic preferences.
3. Can I install accessories on my aluminium canopy?
Many aluminium canopies offer accessory options such as integrated LED lighting, roller screens, and outdoor heaters, allowing you to create a versatile and comfortable outdoor space.
4. Are aluminium canopies eco-friendly?
Yes, aluminium is an eco-friendly choice. It is 100% recyclable, and a significant portion of all aluminium ever produced is still used today.
5. Can aluminium canopies be used commercially?
Absolutely, aluminium canopies are suitable for both residential and commercial settings. They can provide shade and shelter for outdoor seating areas, walkways, and entrances.
6. How do I determine the right size of an aluminium canopy for my space?
We recommend scheduling a consultation with one of our experienced consultants who can conduct a site visit and evaluate your unique needs. Factors such as available space, intended use, and aesthetic preferences play a role in determining the right canopy size.