Are you looking to enjoy your outdoor living space throughout the chilly months? Look no further than our outdoor heaters designed specifically for your pergola. Our outdoor heaters provide ample warmth to keep you and your guests comfortable and cosy. Made with high-quality materials, our outdoor heaters are built to last through harsh weather conditions for years to come. With sleek designs and multiple mounting options, our heaters seamlessly blend into the aesthetic of your pergola.
Regular price

From $4,650.00 NZD

Regular price

$5,195.00 NZD

Sale price

From $4,650.00 NZD

Unit price

/

per

Regular price

$649.95 NZD

Regular price

Sale price

$649.95 NZD

Unit price

/

per

Regular price

$499.00 NZD

Regular price

Sale price

$499.00 NZD

Unit price

/

per
Whether you're hosting a party or simply looking to relax and unwind outdoors, our outdoor heaters for pergolas are the perfect addition to your space.
Contact us today to learn more about our products and how we can help enhance your outdoor living experience.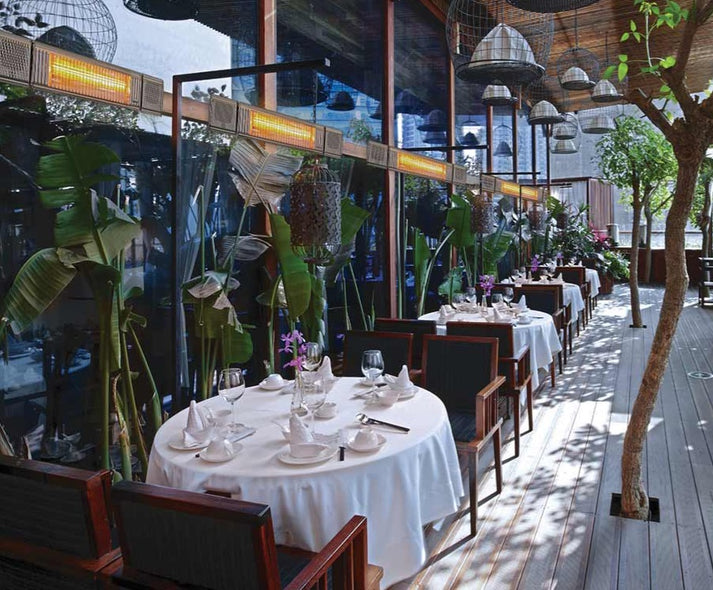 Smart Heater with Bluetooth + Speakers
Turn up the heat and get the party started with our Smart Infrared Heater with Bluetooth and Speakers! This stylish outdoor heater boasts an aircraft-grade aluminium build, providing ultimate protection against even the most severe weather conditions. Perfect for indoor or outdoor locations, this heater covers an impressive 15-20 sqm with its 2000W ULG lamp heating tube.
Our Smart Infrared Heater takes the concept of convenience to new heights with its Bluetooth technology and smartphone application. Using the Sunkare app, easily connect your heater to your phone and adjust the heat output from 0% to 100%. The app also allows you to set the temperature and timer so you can set it and forget it!
Our outdoor heater has two high-quality Bluetooth speakers to provide the ultimate party atmosphere. Play your favourite tunes and watch as the ambient lights change to the beat of the music. With the option to change the LED colour to whatever suits your mood, this heater truly is the life of the party.
Our smart heater is available in black and grey, and can be installed either wall-mounted or with heater stands under your Aluminum pergola in NZ. With an IP65 protection class rating, it is sure to withstand the elements and provide warmth and comfort in any setting.
With our smart heater, you can host gatherings at your home anytime and make your holidays more fun with your loved ones. Shop from our online store today or visit our physical store to check the quality of the product before buying.
Smart Infrared Heater with Bluetooth
Our Smart Infrared Heater with Bluetooth and Speakers is the perfect addition to your outdoor living space. With its cutting-edge features and advanced technology, this heater is designed to provide you and your guests with instant warmth, convenience, and comfort at the touch of a button. Simply download the free 'SunKare' app available for iOS and Android devices, and enjoy seamless control over your heater's temperature, timer, and on/off settings.
The Smart Infrared Heater with Bluetooth also incorporates ultra-low glare infrared technology, which reduces visible light by up to 80%, creating a gentle amber light that sets the perfect mood in your outdoor space. With its durable aluminium casing, IP65 protection class, and wall-mounted or heater stand installation options, this versatile heater is perfect for use in all weather conditions.
With a heat area of 15-20 square metres, this heater is a perfect addition to your terrace, gazebo, awning, patio, or garden. Its sleek and compact design measures 656 mm x 140mm x 110mm and weighs only 2.8 kg, making it easy to install and move as required.
The Smart Infrared Heater with Bluetooth is available in black and silver options to suit any style. Plus, you can make the atmosphere more private and cosy with our motorised outdoor blinds NZ.
Experience the ultimate outdoor heating comfort with our smart heaters. Order yours today and create unforgettable moments with loved ones - even on the coldest nights!
FAQs
Are your heaters safe to use around children and pets?
Yes, our heaters are designed to be safe and efficient without posing any harm to children and pets. We recommend reading the manufacturer's guidelines and ensuring adequate ventilation and space around the heater to prevent accidents.
What is the typical lifespan of an outdoor heater for pergolas?
The lifespan of outdoor heaters depends on various factors, such as the frequency of usage, maintenance, and environmental conditions. However, our outdoor heaters for pergolas are built to last and come with a long-term warranty for your peace of mind.
Can outdoor heaters for pergolas also provide lighting?
Yes, we offer outdoor heaters with built-in lighting features to enhance your pergola's ambience and functionality. These heaters provide both heat and light, making them the perfect addition to your outdoor living space.
How do I install an outdoor heater for my pergola?
Our outdoor heaters for pergolas are easy to install and come with user-friendly instructions. However, we recommend seeking professional assistance for installation, especially when it comes to gas and electrical connections.
You can contact us to know more details about the outdoor heater installation and how to use it the first time.
Choosing a selection results in a full page refresh.
Opens in a new window.